Architect, Architect, Architects! We are now only 1 week away from our highly anticipated CPD day on September 28, 2023 and we have some slots available for this event!. This event is designed exclusively for professionals like you who are committed to continuous learning and career development. It's time to mark your calendars, set your reminders, and get ready for a morning filled with knowledge, growth, and networking opportunities that can shape your future in the field of architecture. 🗓️✨
What to Expect:
Interactive CPD Sessions: Our CPD day will feature two informative sessions on key topics that are relevant to your architectural expertise. We will explore TLA, our revolutionary pumped floor insulation, and Cemfloor, the quick-drying cement-based liquid screed. These sessions are carefully curated to provide you with in-depth knowledge and practical insights that you can apply to your projects.
Experienced Speakers: Our lineup of speakers consists of industry experts and thought leaders who are at the forefront of architectural innovation. They will share their expertise, experiences, and best practices, giving you a unique opportunity to learn from the best in the field.
Networking Opportunities: Connect with fellow architect, engineers, and construction professionals during the event. Building a strong professional network is crucial in today's competitive landscape, and our CPD day provides the ideal platform for you to meet and exchange ideas with like-minded individuals.
Hands-On Experience: In addition to informative presentations, we will also offer hands-on demonstrations and workshops. You'll have the chance to interact with our products and see firsthand how TLA and Cemfloor can enhance your projects, making them more efficient and sustainable.
Q&A Sessions: Got burning questions or need clarification on specific topics? Our Q&A sessions will provide you with the opportunity to engage directly with our experts and speakers. Don't miss this chance to gain valuable insights tailored to your needs.
Certificates of Participation: Upon completing our CPD day, you'll receive certificates of participation that can be added to your professional portfolio. These certificates demonstrate your commitment to staying current in your field and can be a valuable asset when seeking new opportunities.
Refreshments and Networking: We understand the importance of networking not only during the sessions but also during breaks. Enjoy complimentary refreshments and mingle with fellow attendees, fostering new connections and potential collaborations.
In a rapidly evolving field like architecture, staying updated with the latest technologies and practices is essential. Our CPD day is designed to equip you with the knowledge and tools needed to excel in your career. Whether you're a seasoned architect looking to expand your skill set or a passionate newcomer eager to make your mark, this event is tailored to meet your professional development needs. 🌟
So, what are you waiting for? Secure your spot today and make the most of this two-week warning. Join us on September 28, 2023, for a morning that promises to be both educational and inspiring. Together, let's take your architectural career to new heights!
Why not see how the floorflow in the Eastern area?
floor screed screed floor screeding screed calculator floor screeding floor screeders near me liquid screed near me flow screed underfloor heating screed liquid floor screed flo screed screed for underfloor heating liquid screed for underfloor heating sand and cement screed flowscreed
Energystore (energystoreltd.com)
Thermal Lightweight Aggregate (TLA) | Free Flow Insulation | Co-Dunkall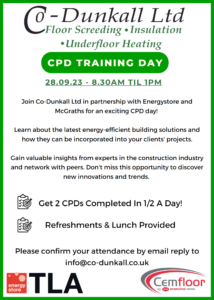 #screed #underfloor #heating #insulation #norfolk #suffolk #cambridge#essex #transmix #gyvlon #excelio #flowscreednorfolk #flowingscreednorfolk
www.co-dunkall.co.uk